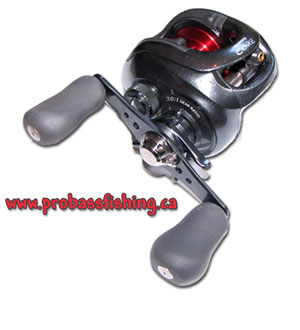 I must say this sweet little Core reel is the cats meow! Shimano does it again! An excellent bait casting reel, in my opinion, and for the money, it's a sweet deal worth every cent!
I purchased both the 7.0:1 and the 6.2:1 gear ratio with the 7.0:1FV coming with a bonus flipping switch. The Core FV also comes with a slightly different thumb shape that seems to fit just right to help make the flipping of the switch effortless.
All day comfort is definitely had here because of its lightweight, but don't let that fool you because this little unit is a powerhouse fit for anything the Bass can dish out. Consistency is the Cores middle name and performance is its game. It features five bearings, which is quite surprising considering what it's capable of, and Shimanos handy spool hatch for quick and easy fine-tuning.
The Shimano Core bait casting reel is a pleasure to use and a confidence builder extraordinaire. Trust me when I say that this little puppy will make any Bass anglers outing more enjoyable and fun. The Core100Mg will always have a permanent home on my boat and I would highly recommend this gem to anyone! Don't take my word for it; pick one up for yourself. I can guarantee you'll want to take one home!